Is there A Better Way to Find the Right Google Font?
Choosing fonts can be pretty exhausting, but it's an essential step in the design workflow. There's no avoiding it. Typography plays an important role in branding and user experience, so it's important to choose a font that reads well and represents the brand accurately.
IDEO Font Map uses machine learning to help you locate the one Google font to rule them all (or at least, the ideal font for your design!).
Today I'm going to take you through how it works and explain why it's so much faster than using Google Fonts directly.
Daniel Schwarz,
Design & UX Co-Editor
SPONSORED BY NORTHWESTERN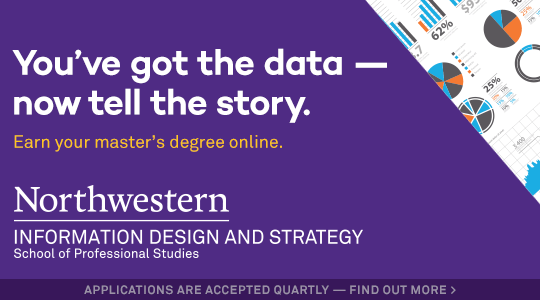 ​​​​Online Master of Science in Information Design and Strategy from Northwestern University
​Learn how to blend digital skills with branding and messaging, translate data into compelling visual forms and narratives, and understand how research and analytics can drive communication strategies and tactics.​ Learn More.
Jobs
RoR Developer
RAMSEY SOLUTIONS - Nashville, TN - Full-Time
Our typical development is Rails application backed by Java-based RESTful micro-services. We use Agile methodologies and are embracing Kanban. Our team is pursuing CI/CD, TDD, and cloud (AWS) infrastructure.
Full Stack/Ruby Developer
OAK - Brooklyn, NY - Full-Time
We are looking for a full stack developer with a strong background in software development, RESTful web services, and writing accessible, efficient code.
Remote Rails & Front End Developer [React.js]
AHA! - Remote - Full-Time
As a Senior Rails Engineer, you will have an excellent opportunity to join a breakthrough and profitable company that is growing fast. Aha! was founded by a proven team of Silicon Valley veterans whose last two companies were acquired by well-known public companies.
From around the web
MAVO: A new, approachable way to create Web applications
A fascinating new project from Lea Verou and MIT designed to help you 'turn your static HTML into reactive web applications without a single line of programming code and no server backend'.
[MAVO.IO]
How to Quickly Design Epic Emails in Sketch
I'm going to show you how to design HTML emails using Sketch — last week I had absolutely no idea how to design emails, so believe me when I say that this is dead easy.
[BLOG.MRDANIELS.CH]
Transitional Interfaces
Designers love to sweat the details. Much time is spent pixel-f@#$ing buttons, form styles, setting type, & getting those icons as sharp as a pin.
[MEDIUM.COM]
Unsatisfying GIFs That Transform Frustrating IRL Moments into Digital Animations
A great demonstration of the emotional power of good animation – even if it is, in this case, to annoy you.
[WWW.THISISCOLOSSAL.COM]
Creative Typography by Anna Zinovieva
Anna is like a typography research scientist and this is her experimental lab. No font was harmed in the making of these images.
[THEINSPIRATIONGRID.COM]
Five Themes for the Price of 1
Download our FREE SitePoint Base Theme for Wordpress. Minimal. Clean. Simple. Lightweight. Responsive. The theme developers love to use. It's 100% FREE. Open Source GPL 2.0. Get 5 Themes for $39!