SitePoint Front-end
If you like a good front-end code debate, you might want to check out a few recent articles and Tweets that have been making the rounds.
As far as I can tell, things started with an article by Sergio Zamarro called CSS is broken. He discusses problems inherent in CSS like global scope, dead code, and overuse of !important.
Keith J. Grant followed that up with a response on his blog called (you guessed it) CSS is Not Broken. He says:
"CSS isn't broken. But it does require study and skill. It does require careful thought. As with anything in programming, you can make a mess of the code."
This is something I've talked about too. Keith compares it to how we use JavaScript. We use the good parts of JavaScript and we learn to do things correctly. That's all it takes, really.
Finally, here's a Tweet storm by Patrick H. Lauke along the same subject, that elicited some similar debate.
Louis Lazaris,
Front-End Editor
SPONSORED BY NORTHWESTERN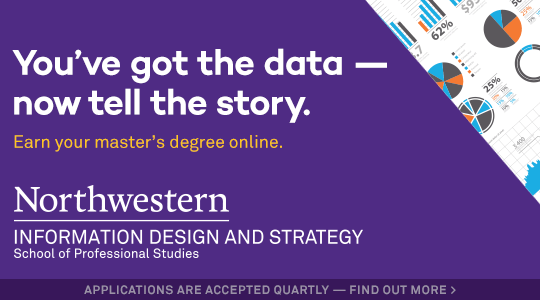 Online Master of Science in Information Design and Strategy from Northwestern University
Learn how to blend digital skills with branding and messaging, translate data into compelling visual forms and narratives, and understand how research and analytics can drive communication strategies and tactics. Learn More
Best of sitepoint front-end
JavaScript Testing Tool Showdown: Sinon.js vs testdouble.js
Jani Hartikainen looks at testdouble.js (a new mocking library with a streamlined API) and puts it head-to-head with Sinon.js, the JS test double incumbent.
[SITEPOINT]
Make Your Website Interactive and Fun with Velocity.js (No jQuery)
Maria Antonietta Perna introduces Velocity JS, a super featured JavaScript library for DOM animation, and shows how to use it without jQuery dependency.
[SITEPOINT]
5 Ionic Framework App Development Tips and Tricks
Patrick Catanzariti highlights 5 tips and tricks he has gathered from his development work with the Ionic framework.
[SITEPOINT]
Quick Tip: How to Build Your Custom Theme for Telescope Nova
In this quick tip, Jelena Jovanovic shows how to customize the Telescope Nova theme, both markup and stylesheet with these easy-to-follow steps.
[SITEPOINT]
Learning JavaScript Test-Driven Development by Example
James Wright introduces test-driven development and walks through creating and refactoring a simple form validation library, step-by-step, as an example.
[SITEPOINT]
Course: Responsive Web Development
Building a modern front-end website involves boilerplates, generators, package managers, task runners, pre-processors and post-processors. It's overwhelming and exhaustive, but we've created a course to show you how to develop a modern website, workflow and all.
[SITEPOINT]
Active Collab: How Collaboration Should Have Been All Along
Daniel Schwarz takes a look at Active Collab, a powerful collaboration tool with time tracking, invoicing, task management and more.
[SITEPOINT]
Back to Basics: JavaScript Operators, Conditionals & Functions
Get a solid understanding of the language from first principles, as Tania Rascia explains the basics of JavaScript operators, conditionals and functions.
[SITEPOINT]
Design Tricks with SVG Filters: A Masked Blur Effect
SVG might be a vector format, but it has some amazingly powerful pixel-based tricks up its sleeve. Follow Alex's journey – if you dare.
[SITEPOINT]
Jobs
Remote Rails & Front End Developer [React.js]
AHA! - Remote (North America) - Full-Time
We are looking for highly ambitious engineers who want to work on major aspects of the Aha! product — from the back-end through to the end user experience. If this is you, we want to hear from you!
Senior UI Designer
CLEARSCORE TECHNOLOGY - London, UK - Full-Time
We are on a mission to make credit scores and reports accessible, clear and easy to understand. We make the complicated simple. That's hard and it takes time. If you are all about creating world class User Interfaces that are being used by millions of people and your designs tell a story rather than just being few pretty pictures you could be part of digital revolution in financial products - you could be designing it.

Web Application Developer
ARCHON SYSTEMS - Toronto, ON - Full-Time
Join our friendly and world-class development team and take on the challenges of delivering a modern, scalable, and performant JavaScript application to users around the world who depend on inFlow for their businesses.
Five Themes for the Price of 1
Download our FREE SitePoint Base Theme for WordPress. Minimal. Clean. Simple. Lightweight. Responsive. The theme developers love to use. It's 100% FREE. Open Source GPL 2.0. Get 5 Themes for $39!
SitePoint | SitePoint Premium
48 Cambridge Street
Collingwood, VIC
3066 | Australia
You're receiving this email because you signed up
to receive news from SitePoint. Smart choice!