How do you set the CSS font-size property?
CSS makes available a considerable variety of length units you can use to set the font-size in your project.
It's easy to get confused or frustrated and simply go back to using the simple px unit: it's familiar and keeps everything fixed, no nasty surprises there.
However, keeping your typeface at a fixed dimension while the web lives in a fluid environment doesn't always yield the best results.
Knowing which units to use, when and how is not an easy task. If you need help, Asha Laxmi has written a thorough guide on this topic, with live demos and use cases to go with it.
Don't miss her article in the links below
Have you filled out our CSS Survey 2017? If you haven't done so already, there is still time.
We'd love to have your contribution!
Maria Antonietta Perna, HTML/CSS Editor
SPONSORED BY NORTHWESTERN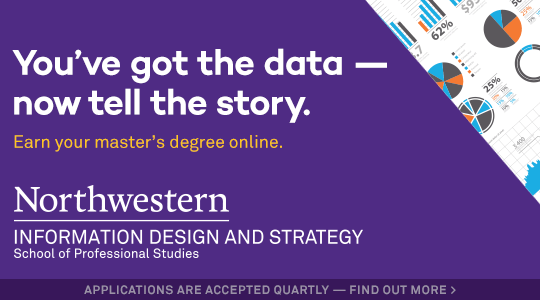 ​​​​Online Master of Science in Information Design and Strategy from Northwestern University
​Learn how to blend digital skills with branding and messaging, translate data into compelling visual forms and narratives, and understand how research and analytics can drive communication strategies and tactics.​ Learn More.
Jobs
Web Developer
ELECTRIC PULP - Remote - Full-Time
As a Web Developer at Electric Pulp, you'll be integral to the success of the project, working with our designers and project managers to implement designs and ensure they're carried successfully through to completion.
UX Engineer
MAARK - Cambridge, MA - Full-Time
In this role you will work as part of the design team and develop front-end interfaces for the web. As part of the design process you will translate concepts into prototypes to test potential animations, interactions, design details, and feedback mechanisms.
UI Developer
ST. JUDE CHILDRENS RESEARCH HOSPITAL - Memphis, TN - Full-Time
As a UI Developer, you'll be responsible for visual design, interaction design, interface design and front-end development on major fundraising initiatives. You'll spend your time working in an agile environment with collaborative teams to define, build, test, and iterate digital products and experiences that serve St. Jude donors and drive fundraising goals.
The search is over. Let Toptal connect you with the world's most talented web and UX designers. Get started today.

Sponsored
Five Themes for the Price of 1
Download our FREE SitePoint Base Theme for Wordpress. Minimal. Clean. Simple. Lightweight. Responsive. The theme developers love to use. It's 100% FREE. Open Source GPL 2.0. Get 5 Themes for $39!
SitePoint | SitePoint Premium
48 Cambridge Street
Collingwood, VIC
3066 | Australia
You're receiving this email because you signed up
to receive news from SitePoint. Smart choice!